Highway 43 Car Club Events
It is with great sadness that I inform you all that
Pam Young has lost her battle with Cancer.
My good friend Mike Lecuyer and Club VP informed
me that there will be a Celebration of Life
being held on Wednesday, August 21st
from 3:00 p.m. to 8:00 p.m. at the Winchelsea Events.
Winchelsea Events is located at
1567 Hwy 31, just North of Winchester.
Rod Rafter President HWY 43 Car Club
Drone Footage from Fathers Day 2016
Please read the article on our donations
to local Food banks for Christmas
Area Car Club Events 2019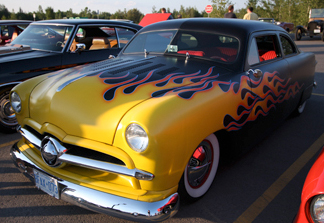 If you're one of those people who like to plan their summer in advance, these calendars are for you!
Rod Rafter (our President), Wendy Hall (Capital Corvette Club) and Roger McGetchie put these lists together and they are now a "must-have" for any Car Show go'er!